Range News
Win some great prizes with our TrackMan Range contests!
---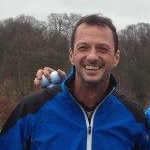 The start of a new month means that we have now started some new TrackMan Range contests.....
We have a great challenge running on the Hit It! game - can you get in the 300 Club and win a prize? If you hit a drive of 300 yards (or 225+ yards for ladies) or more on TrackMan and get a photo, once we verify it, we will present you with a prize of a sleeve of Titleist ProV1 balls...we already have about 8 names in the club!!
If you're not a big hitter then play Bullseye where a score of 7000 points or more will also be rewarded with the same prize as above
For all the Bullsesye fans we will also be running our monthly competition (this month's leader is Fin Waterhouse) where the best scorer will win TWO brand new CLEVELAND wedges!!
There will also be a courses contest where we will ask you to play the back nine of a famous course to win prizes, the last one was won by Richard Hart, look out for this from 22nd August.
So as you can see - TrackMan Range is making practice fun and informative and with these extra contests it also provides you with a great challenge and competitive element to your practice sessions!!
If you need any help on how to play these range games please ask us in the shop and we will be happy to help...
*please note that only AMATEUR golfers will be eligible to win prizes*