Club News
What a weekend for the ladies!
---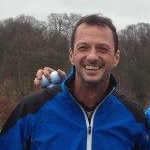 We started the summer season off with back to back Stableford competitions over the long Easter Weekend and the leader boards were dominated by some of our lady members - with one very special round indeed for Abbie Cowlard!
The season got off to it's usual start with the Captain's drive-in by Chris Whalley, instead of the usual crowds of members to watch him, Chris had to tee-off with the majority watching at home on Facebook Live - the video has now been viewed over 1,700 times and Chris performed well for the cameras by hitting a good drive up the left of the fairway. You can still watch the drive in video here.
Then it was on to the Stableford competition which featured some good scores considering everyone would have been quite rusty. The eye catching round of the day was undoubtedly a 3 under par gross 66 from Abbie (42 points) which smashed our ladies course record, Abbie's round showed no signs of rustiness and featured five birdies with just two dropped shots, the new Scotty Cameron putter Abbie collected from us obviously did the job on Saturday! Abbie has a new handicap of +1 and in this form she will be getting noticed by the Cheshire ladies selectors.
Division two was comfortably won by Keira Wharton who scored 42 points also, there was a good round for young Shinil Balakrishnan who scored 40 points.
Easter Monday brought another Stableford and Jayne Brown had the best score of the day with 40 points in division two, Toby Walford was runner up with 39 points in his first club competition.
Marc Humphries just stopped a complete ladies weekend clean sweep by taking division one honours with 39 points.
Next Saturday we play the first strokeplay event with a 10:28am start for the April Medal.